Recording Studio Chairs Get Comfortable, Get Creative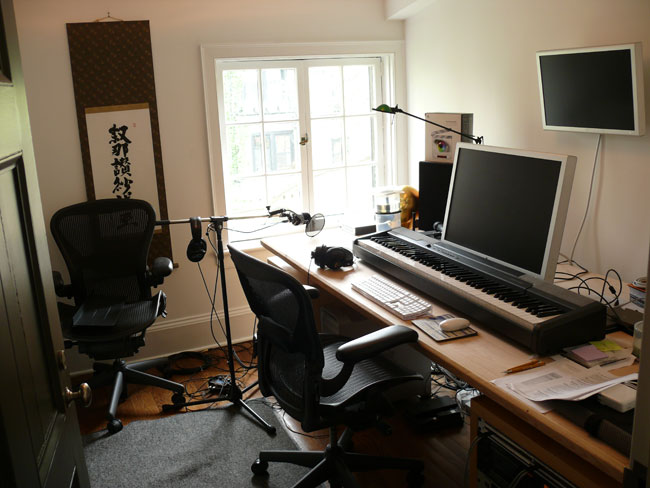 In a home recording studio, you spend a lot of time sitting around on your butt. Literally.
It's not because you aren't doing anything. It's because you are…day in and day out, for hours on end.
Early on, you don't think much about investing in a nice chair. You've got more important things to buy.
But later, slowly but surely, you begin to see a quality recording studio chair for what it really is:
An investment in your back health
Those long hours add up. And you can either have a chair that works for you, or against you. Assuming you agree, the next step is knowing what to look for in a quality chair.
Let's find out now.
Why Comfort is Key
You want your chair to be comfortable first and foremost. Don't underestimate this feature. It's not a nice-to-have. It's an essential.
And here are 3 reasons why:
1. Endurance
Let's face it…no matter how much we may enjoy it, recording music is work. It's exhausting.
Many days you wish you could record for longer. But you can't, because you're tired.
Need a good way to extend your efforts for just a few more hours? I've got one for you.
No…it's not Red Bull. It's a comfortable chair.
2. Creativity
As with any art form, the amount of time you put in…is not always proportional to the quality of the product you put out. All that reality matters is your creativity.
In the times when creativity is flowing, your productivity is a 1000 times greater than the times when it isn't.
What's the best way to turn on that creative fire hose?
Get comfortable.
3. Your long term health
Ok, forget your endurance and your creativity for a second. There's something more important.
It's your health. Think of your chair as an investment in your back health.
You will soon be spending long hours mixing away at this chair on a daily basis.
An achy back is one of the first things that will pull you out of the creative mindset and make you want to call it quits for the day.
The 3 Best Recording Studio Chairs…period
Ok, now that you understand the importance of good recording studio chair, the next question is…which one should you get?
Relax, this part is easy.
If you want a top-of-the-line chair to provide you with maximum comfort and ergonomics, Herman Miller Chairs are the way to go.
Seriously…Herman Miller makes one crazy bad-ass chair. If you've never tried one you don't know what you're missing. You really get what you get what you pay for with these chairs. Not only are they hi-tech, and ergonomically designed, they look freakin cool!
Check them out!
Pictured below are their 3 coolest models: the Embody, Aeron, and Mirra.
Herman Miller Embody Chair
Herman Miller Mirra Chair
Herman Miller Aeron Chair
Source :